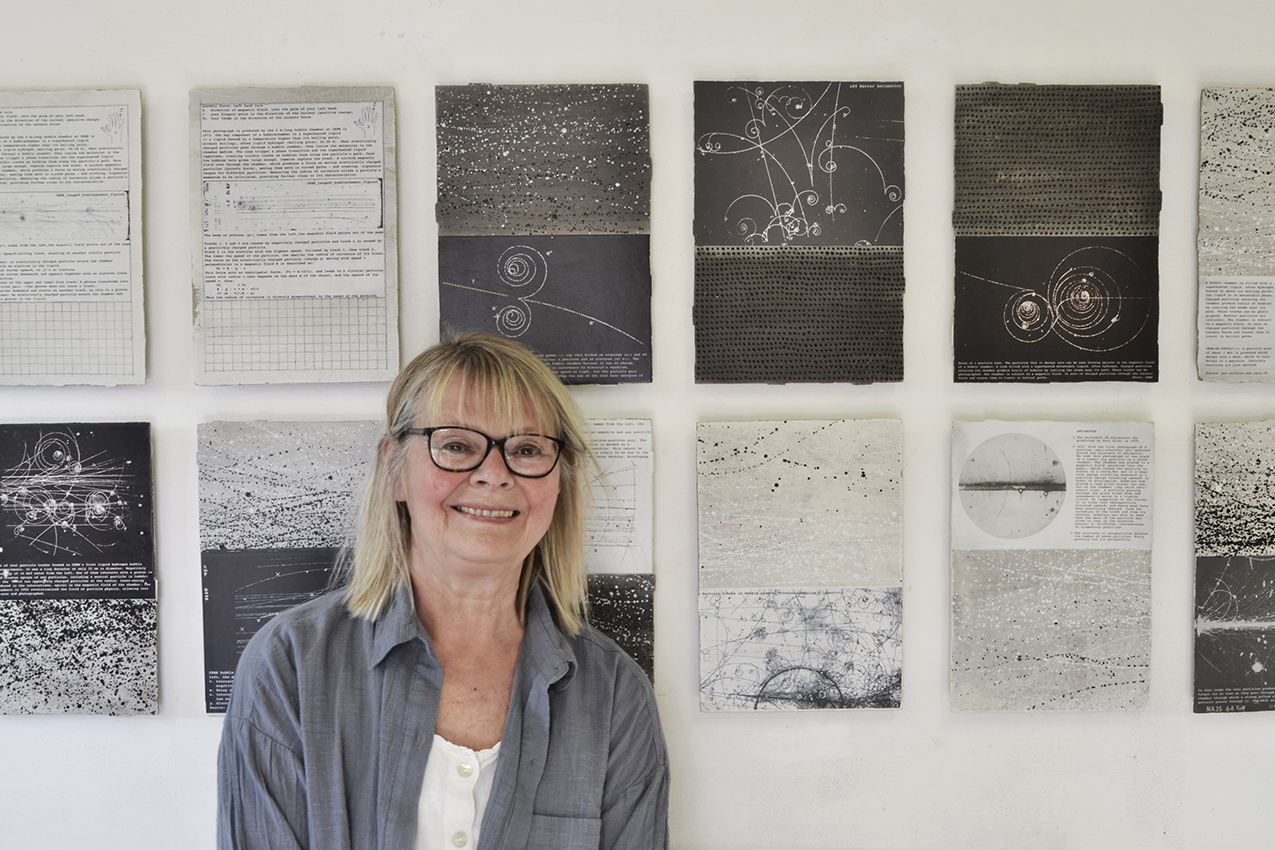 Margreet Zwetsloot  |  Marijkestraat 35  |  7491 XH Delden  |  +31743767011  |  +31630257215  |  zwetsloot.simon@kpnplanet.nl  |  SaatchiArt
For many years the longing for the landscape of my youth has been a source of inspiration for my work: The flat land by the North Sea on the edge of the continent.
Themes such as the Dutch Landscape, the ship, water, wind, clouds, motion represent this nostalgia.
In recent years my focus has been on a different theme. I have been interested in astronomy since high school, but only now I have time to study and attend lectures on physics and astronomy.
There was a certain logic to me to visualize this learning process in ceramics, the material I've been working with for over 40 years.
Portuguese Jesuits used images on ceramic tiles to illustrate their teaching centuries ago. I came across photos of azulejos with beautiful images of geometric figures in the catalog "Azulejos didacticos do Museu Nacional de Machado de Castro".
My tiles also often have a didactic component. For myself, with the aim of learning about a physics subject. But also for others to show the beauty of logic and science.
The first years I was concerned with the three phases of matter on earth: gas, liquid and solid. Later I started to study the concept of entropy and the arrow of time.
Since 2020 I have been working on the series "Notes on Matter and Antimatter". These are ceramic tiles that can be seen as the pages of a workbook.
Some topics:
Total solar eclipse. The total solar eclipse of 1919 provided definitive proof of Einstein's general theory of relativity.
Bubble chamber photos showing the movements of subatomic particles. For example: Gamma radiation (energy) converted into an electron and a positron (matter and antimatter) according to Einstein's equation E = mc2.
Exercises to learn how to analyze bubble chamber photos.
The Lorentz force that affects the trajectories of the particles in the bubble chamber.
A bubble chamber is a vessel in which the movements of subatomic particles can be visualized. From the 1950s to the 1970s, CERN (European Organization for nuclear Research in Meyrin, on the border of France and Switzerland) has been using the bubble chamber to investigate the behavior of subatomic particles. These particles are smaller than the nucleus of an atom. The traces left by the moving particles are made visible in the bubble chamber and can be photographed. The photos are processed into ceramic transfers that are melted into the glazed parts of the ceramics.
EDUCATION
1977  graduated Art Academy Utrecht (HKU)
1983  graduated AKI ArtEZ University of the Arts Enschede
CERAMICS SYMPOSIUMS
1991  "Crossborder" International Ceramics Symposium Silkeborg Denmark
1990  6th International Ceramics Symposium Römhild DDR
COLLECTIONS
Work in collections in the Netherlands, Belgium, Germany, France, Denmark, United Kingdom, USA, Taiwan, Saudi-Arabia
SAATCHI ART
2023   "New this week collection" by Rebecca Wilson
2022   "New this week collection" by Rebecca Wilson
2021   Saatchi Art Spring Catalog
2019   Garden Sculptures Collection
2018   "In celebration of Calder: New Sculpture" by Katherine Henning
2017   "New Sculptures for $ 5000 and Under Collection" by Katherine Henning
2014   "Artist of the day" series by Jessica McQueen
2015   "New on the block, Contemporary Sculpture" by Becky Benshof
2015   "New this week collection" By Rebecca Wilson
EXHIBITIONS (selection)
2022   Kunsthal Hof 88 Almelo (NL)
2019   Expo International d'Art Contemporain, Fanjeaux, France
2018   Expo International d'Art Contemporain, Fanjeaux, France
2018   Galerie van Strien Nieuw-Amsterdam
2017   Kölner Liste, Contemporary Art Fair, XPOST Cologne, Germany
2017   Art Breda, Contemporary Art Fair (NL)
2017   Glass Studio Carl van Hees, Amsterdam
2016   Nassau 42 Fine Arts Antwerpen, Belgium
2016   Museum De Casteelse Poort, Wageningen (NL)
2016   Salon des Arts Fanjeaux, France
2016   Huntenkunst DRU Fabriek Ulft, Contemporary Art Fair (NL)
2015   Symposium Gorinchem, opened by former queen of The Netherlands, princess Beatrix
2015   Museum Het Palthehuis Oldenzaal
2015   Galerie van Strien Nieuw-Amsterdam (NL)
2014   Zinc Exposities Bergen (NL)
2014   Galerie Lauswolt Olterterp (NL)
2013   Art Lease Contemporary Art Utrecht
2013   Galerie A-Quadraat Vorden
2013   Kunstmaand Ameland, Galerie Bo Lumen
2013   Museum Het Palthehuis Oldenzaal
2012   ZincExposities Bergen
2012   Huntenkunst DRU Fabriek Ulft, Contemporary Art Fair
2011   Open Art Fair Jaarbeurs Utrecht, Contemporary Art
2011   Galerie Lauswolt Olterterp
2011   Huntenkunst DRU Fabriek Ulft, Contemporary Art Fair
2011   Dehullu Beelden in Gees
2011   Galerie Windkracht 13 Den Helder
2010   ZincExposities Bergen
2010   Galerie Lauswolt Olterterp
2010   Open Art Fair Jaarbeurs Utrecht, Contemporary Art
2010   Biennale Nieuw Land Nieuwe Klei, Paviljoen De Verbeelding Zeewolde
2010   Huntenkunst DRU Fabriek Ulft, Contemporary Art Fair
2009   Galerie Montana Apeldoorn
2009   Open Art Fair Utrecht, Contemporary Art
2009   Galerie Nijehove Diepenheim
2009   Galerie De Rog Grave
2009   Galerie Bianca Landgraaf
2008   Open Art Fair Utrecht, Contemporary Art
2008   "Lavori in Corso", Kunsthal Almelo
2008   Galerie Nijehove Diepenheim
2007    Kunstschouw Westerschouwen
2007   Galerie De Rog Grave
2006   Dehullu Beelden in Gees
2006   Galerie Bianca Landgraaf Laren
2005   "Nothing is what it seems" Dutch Collection Amsterdam-London
2005   Galerie Montana Apeldoorn
2005   Galerie De Rog Grave
2004   Art Twente 6, Contemporary Art Fair
2004   Galerie De Verbeelding Baarle-Nassau
2004   Holland Art Fair The Hague, Contemporary Art
2003   Galerie Bianca Landgraaf Laren
2003   Holland Art Fair The Hague, Contemporary Art
2002   Galerie Nijehove Diepenheim
2002   Galerie Montana Apeldoorn
2002   Galerie De Rog Grave
2001   Galerie De Verbeelding Baarle-Nassau
2001   Zwolsche Algemeene Nieuwegein
2001   Galerie van Strien Nieuw-Amsterdam
2000   Kunstschouw Westerschouwen
2000   Galerie De Rog Grave
2000  Galerie Bianca Landgraaf Laren
1999   Galerie Inkt Delft
1999   Art Twente 1, Contemporary Art Fair
1998   Galerie Grafiker Haarlem
1998   Galerie Marijke Raaijmakers Grubbenvorst
1997   Kunstuitleen West-Friesland Hoorn
1996   Galerie Polder Borne
1996   St. Josephgalerie Leeuwarden
1996   International Art Fair Mechelen (Belgium)
1995   "Niederländische Gegenwartskeramik" Museum für Angewandte Kunst Gera, Germany
1994   Galerie Amphora Oosterbeek
1993   Museum Het Palthehuis Oldenzaal
1993   "The Four Elements" Ministry of Agriculture The Hague (1993)
1992   "Nederlandse Keramiek" Hof 88 Almelo
1992   "Crossborder" Kunstbygning Arhus, Denmark
1991   Galerie Marijke Raaijmakers Grubbenvorst
1991   The European Fine Art Fair (TEFAF) Maastricht
1991   De Kunstvereniging Diepenheim
1989   Galerie Delphi Zwolle
1988   Galerie Polder Borne
1988   Catharinakapel Harderwijk
1985   GSA Hilversum
1985   Galerie Marktzeventien Enschede
1984   Museum Het Palthehuis Oldenzaal
1984   Galerie 1881 Diepenheim
1984   Galerie Nieuw Perspectief Amsterdam
1983   Centraal Beheer Apeldoorn
1983   Technische Universiteit Enschede
1983   Arts Center "Kunstliefde" Utrecht
COMMISSIONS
2015   Two ceramic chairs Loenen (Veluwe)
2009   Two ceramic chairs Enschede
2004   "Dicht op Hasselt" Sculpture Route
1998   Okura Hotel Amsterdam: Sculptures on 21 floors
1998   Medical Center Leeuwarden: Sculpture in the central hall
1998   Stratenplan Delden
1993   Sculptures in the schoolyard Schools Ittersumerbroek Zwolle
1991   Sculpture in the schoolyard Freinetschool Enschede
1989   "Bankenroute" Markelo
1986   Witteveen+Bos, Consulting Engineering Firm. Mural ceramics and sculpture
1985   Beeld-en-Route, Diepenheim
1985   Univé Insurances, 12 ceramic panels in the central hall of the main building
1985   Oversticht Zwolle. 6 sculptures that have been awarded as architecture prizes
PUBLICATIONS (selection)
1983   "Zwetsloot and Franken: The invisible becomes visible" by Peggie Breitbarth in the Twentsche Courant
1988   "Zwetsloot: Ceramic Furniture" by Henk Blokhuis in the Twentsche Courant
1992   "Margreet Zwetsloot" by Peggie Breitbarth in Keramiek NVK
2003   "Margreet Zwetsloot: Living and travelling" in Art Gallery Update
TV
1999   AVRO Kunstblik, art program. TV recording in studio and interview by Liesbeth Brandt Corstius
TEACHING POSITIONS
1977-1981   Teacher of art and art history at the International School Utrecht and the Carmelcollege Oldenzaal
1986-2000 Teacher of ceramics at Concordia Kunst en Cultuur Enschede
2011-now    Teacher of ceramics in my own studio